Profile
Gnutella doesn't have a personal statement currently.
Gnutella
Rank: Tornado
Male
No Information
Joined: 15-December 09
Last Seen: Yesterday, 07:24 AM
Local Time: Aug 27 2015, 08:09 PM
338 posts (0 per day)
No Information
No Information
No Information
No Information
Send Message
Private
* Profile views updated each hour
Gnutella

Member
My Content
23 Jun 2015
There used to be a fair number of Southerners posting here, so I'm surprised at the lack of weather discussion, especially since we've had a ridge parked over the Southeastern U.S. for about a week and a half now. Anyway, the high temperature in Athens, GA yesterday reached 100° for the first time this summer, and I know that it was at least 96° today, which makes nine out of the last 10 days with high temperatures of at least 95°. Tomorrow the forecast high in Athens is 99° with a heat advisory in effect, and the forecast high for Thursday is 96°. After that, it cools off slightly with a greater chance of thunderstorms over the weekend, and the ridge appears to be forecast to either collapse or be pushed offshore at that point. If those forecast high temperatures verify, then that'll be 11 of 12 days with high temperatures of at least 95°. In fact, here's the list of high temperatures for Athens for June 2015 (through June 22):


High temperatures in Athens, GA (June 2015)

June 1: 87°
June 2: 87°
June 3: 82°
June 4: 81°
June 5: 87°
June 6: 91°
June 7: 91°
June 8: 90°
June 9: 89°
June 10: 83°
June 11: 88°
June 12: 89°
June 13: 93°
June 14: 96°
June 15: 98°
June 16: 98°
June 17: 99°
June 18: 98°
June 19: 96°
June 20: 93°
June 21: 96°
June 22: 100°


It's been broiling here lately. This weather actually reminds me of the weather when I first moved here in the summer of 1995. I just hope now that the weather cooperates for Independence Day. Last year it was perfect, but two years ago it was terrible. Everything got rained out. In fact, most of that summer got rained out. We didn't have a hot, dry spell until the middle of August.
14 Apr 2015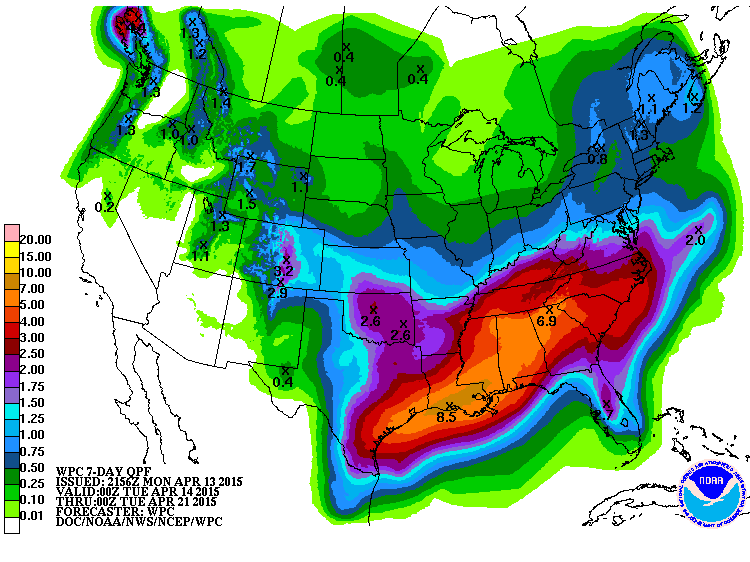 Precipitation outlook (7PM Monday 4/13 - 7PM Monday 4/20)
The rain started here in Athens last night, and we've had three episodes of it in the last 24 hours or so, including one ongoing right now. It looks like a cold front is becoming stationary over the Deep South, and everywhere from eastern Texas to the Carolinas is in store for a lot of rain this week. I'm not sure what the forecast is elsewhere, but the National Weather Service office in Atlanta says that severe weather is not expected here, though isolated thunderstorms are expected every day. This pattern won't change until a frontal passage early next week. The good news is that the rain should erase most areas of drought or abnormal dryness in the South.
15 Dec 2009
I read a bulletin a few weeks ago discussing the effects that El Niņo has on winter weather in the United States. One of the effects, according to the bulletin, is above-normal precipitation and severe weather threat in the "Gulf Coast region." It particularly mentioned an increased threat of organized tornado activity. Now when I think of the "Gulf Coast region," I think of everything south of Interstate 20, east of Interstate 35, and west of Interstate 75. Please correct me if I'm wrong.

Now what I'd really like to know is, is northern Georgia relatively "safe" compared to the central and southern portions of the state? I've recalled many instances of organized severe weather moving from Alabama into Georgia, and the storms that move from central and southern Alabama into central and southern Georgia seem to hold up better than those that move from northern Alabama into northern Georgia. Northeastern Georgia in particular (think Gainesville, Athens and Toccoa) doesn't seem to endure as much severe weather as the rest of the state, and the southern and western fringes of metro Atlanta seem to take more of a pounding than the northern and eastern fringes.

On the other hand, I distinctly remember a tornado outbreak that centered around metro Atlanta about 12 years ago, when a very strong El Niņo was present. So what I need to know is, when they talk about an increased tornado threat along the Gulf Coast region, would that include northern Georgia as well?
Friends
There are no friends to display.